"Foreigner hunting" schedule for IElTS speaking practice in summer 2018
How do we go "hunting foreigners" to practice speaking most efficiently in summer 2018?
"Hunting foreigner" is no longer a strange term for Vietnamese students. This is one of the effective ways to learn English that isn't costly.

Select a suitable location to practice speaking
In order to most efficiently "hunt" foreigners and practice speaking, you should select suitable locations for your own transporting convenience and somewhere you can go to often. It also need to have many foreigners and is not too noisy.
The ideal location should be museums, historical monuments, walking streets,… so that you can easily approach your "targets" and speak to them.
If you're living in Hanoi, you can go to the Lake Side, West Lake, Ta Hien street, Xuan Dieu street,… If you're in Ho Chi Minh city, locations with many foreigners are Bui Vien street, 23/9 park,…
Prepare your content
If your English skill is not good enough and you skip this step then maintaining a conversation would be extremely difficult.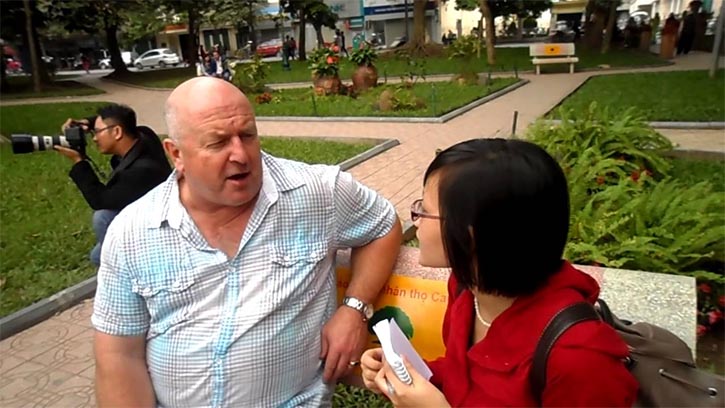 First, you should think of a topic of discussion then write it on notes. For each question, you could also prepare 2 or 3 follow up questions to lengthen the conversation.
Most foreigners are quite civil and polite and they enjoy learning about the culture and people of Vietnam. If you wish to lead the discussion this way then you should also prepare knowledge about the culture and historical events of the area you're in.
For instance, if you select Lake Side as your English practicing location, you should know its history and practice talking about it in English at home beforehand. If you chose a historical museum, you should look for some interesting facts to introduce.
Moreover, you can introduce some famous food places, or help foreigner find their road, or shopping,…
3 rules when "hunting" foreigners
First of all, ask for consent
You should first ask them for 5-10 minutes and state your purpose upfront. You could say: "Excuse me, can I practice my English with you for just 5 minutes?" And once your time has elapsed, stop and say: "Well thanks for your time. I will not bother you anymore." This is a way of showing respect to foreigners and make them feel comfortable.
Secondly, go in a small group
You shouldn't have too big a group and surround a foreigner that you've found. Go in groups of 2-3, or if you're confident enough, go alone. Don't forget to be mindful to see if you're bothering them!
Thirdly, be confident and patient
You may not always run into easy going and chill foreigners. Some people refuse to converse because they are afraid of unwell intents, or some just don't enjoy talking to strangers. In those situations, you should apology for bothering them and find someone else.
But don't worry if you make a mistake either. As long as you use basic communication in English, they will understand what you're trying to say. Once they've known that you're just trying to improve your English, foreigners will speak more slowly and clearly and use words that are easier to understand. Just be natural, open and friendly.
IELTS 9.0 wish you best of luck "hunting" foreigners and successfully practice your speaking skills!