ILETS 9.0
Completely confident taking the IELTS with lessons, strategies and tricks,… IELTS 9.0 has all you need in preparation for the IELTS.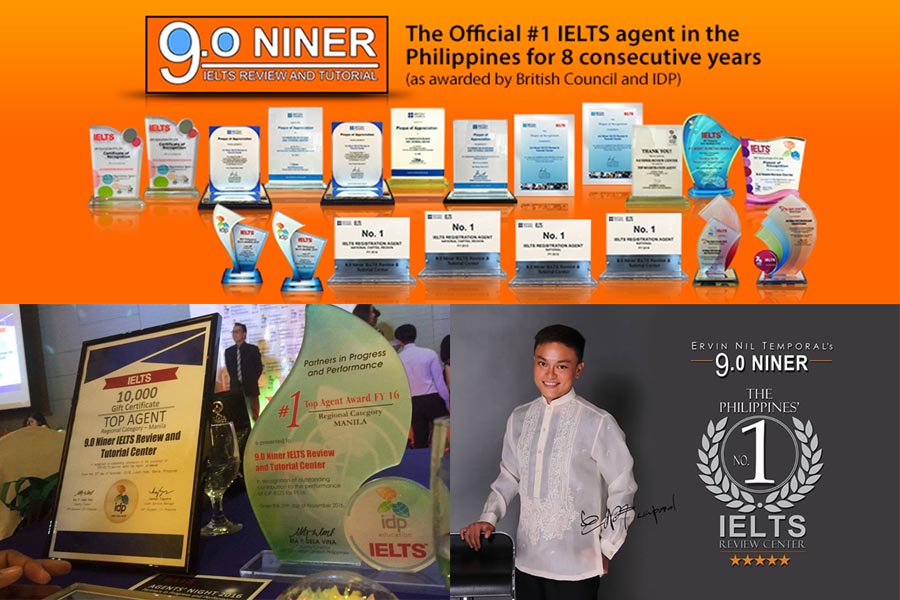 IELTS 9.0 is the copyrighted program by 9.0 Niner IELTS Review Center – the number one IELTS center in the world in Philippines, considered the most effective IELTS center by the British Council and IDP.
Dominant teaching method 3:1
3:1 teaching model, meaning 3 teachers with 3 approaches including:
Lecture
Each member in a class helps one another towards a common goal. Classroom is the ideal environment for practicing group work, requiring its members to work together.
A class not only helps you study for the IELTS, but also equips you with the necessary soft skills in life.
One on one coaching
One on one coaching is the model in which there's only one teacher and one student.
When partaking in 1:1 coaching, students are given the initiative in terms of schedule as well as content. How a student learn is entirely dependant on the student, not the teacher. There's no worrying of making too many mistakes or delaying the progress of the class since there's only one teacher and one student.
Through coaching, teachers can follow the progress of their students closely, making timely judgements and adjustments to their study plan.
1:1 class is not a new concept but it's a highly effective one. However, in Vietnam and other countries like Singapore, Australia, USA,… 1:1 classes tend to have exorbitant price or are unavailable. But in Philippines, 1:1 classes are very common and cost reasonably.
Tutoring
The concept of Tutoring is very familiar, especially in Universities in the world. There, in each subject, bsides the main teacher, there will be a tutor aiding students in the form of: solving remaining questions regarding the lecture, explain, guide and evaluate students homework, as well as preparing for exams.
In IELTS 9.0 the Tutor will help students improve their knowledge and resolve questions. Besides class time, students can contact with Tutor via Email, phone, or arrange a face to face meeting.
Our team of teachers
IELTS 9.0 has a team of passionate and talented foreign experts with many years of experience in evaluating and guiding students. Each teacher focuses on 1, 2 English skills in order to follow a student's progress closely.
Students can study for an unlimited time without having to pay extra fee, have flexible schedule, and can join classes at any point,…
Lecture: Basic topics like tenses, sentence structures, word formation,..
Coaching: Cover a student's weaknesses and questions after each lesson, helping them progress more quickly
Listening dictation: familiarise with different English voices, practice with topics, improve social skills
Vocabulary: Improve lexicon
Mock test: Weekly free mock tests to check progress
Unlimited: Studying unlimited until result is achieved
Study time
Flexible schedule, depending on the student. You can come anytime, studying from 8am to 8pm.
Over 12 weeks program. Within 3 months, you can study for unlimited time, which amounts up to hundreds of hours.
Start as soon as you register, can join at any point.
Weekly mock test
Every sunday morning, students can attend a mock test similar to the real ELTS. This test will help evaluate a student's progress.
You can also take free IELTS mocks at IELTS 9.0 every sunday morning.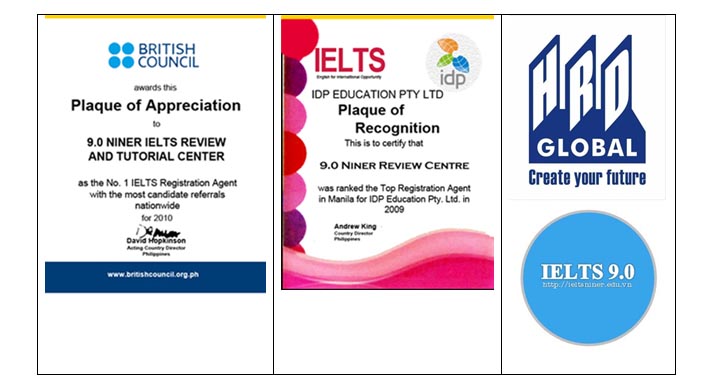 Experience the program in Vietnam today!
IELTS 9.0 center will bring you a special IELTS program, based on the copyrighted program of IELTS NINER center.
Getting 9.0 IELTS easily with IELTS 9.0.
IELTS 9.0 – 37 Ta Quang Buu Str, Hai Ba Trung Dist, Hanoi
TEL:  0248.5861.366 / 098.1978.999
Email: hrdglobal.vn@gmail.com
Website: hrdglobal.edu.vn / ieltsniner.edu.vn 
Fanpage: IELTS9.0HRGLOBAL
 IELTS 9.0 HANOI – MAY TO AUGUST 2018 IELTS REVIEW SCHEDULE
 DATE
DAY 
TIME
9 am – 12 pm
2 pm – 4 pm
6:pm –  8pm
 08-May
 Tuesday
 Writing Task 2 Do you agree or disagree
 Writing Task 2 To what extent
09-May
Wednesday
Grammar 1
Grammar 2
10-May
Thursday
Writing Task 1 Bar Graph
Writing Task 1 Pie chart
11-May
Friday
Vocabulary 1
Vocabulary 2
12-May
Saturday
British Accent (Listening Test) Set A
British Accent (Listening Test) Set B
13-May
Sunday
MOCK EXAM 1
 15-May
Tuesday
Easy Listening 1 Set A
 Easy Listening 2 Set A
16-May
Wednesday
Easy Reading 1 Set A
Easy Reading 2 Set A
17-May
Thursday
Easy Listening 1 Set B
Easy Listening 2 Set B
18-May
Friday
Easy Reading 1 Set B
Grammar 3
19-May
Saturday
Speaking Skills Enhancement
Exam Assessment
20-May
Sunday
MOCK EXAM 2
22-May
Tuesday
Writing Task 2 To what extent
Writing Task 2 Do you agree or disagree
23-May
Wednesday
Grammar 2
Grammar 1
24-May
Thursday
Writing Task 1 Pie chart
Writing Task 1 Bar Graph
25-May
Friday
Vocabulary 2
Vocabulary 1
26-May
Saturday
British Accent (Listening Test) Set B
British Accent (Listening Test) Set A
27-May
Sunday
MOCK EXAM 3
29-May
Tuesday
Easy Listening 2 Set A
Easy Listening 1 Set A
30-May
Wednesday
Easy Reading 2 Set A
Easy Reading 1 Set A
31-May
Thursday
Easy Listening 2 Set B
Easy Listening 1 Set B
*Regular ONE-ON-ONE COACHING schedule is Tuesday – Sunday 9am-11am; 2pm-4pm; 6pm-8pm
*Regular TUTORIAL LESSON with the assistant teacher is the same as with lecture schedule Tuesday- Sunday 9am-11am; 2pm-4pm; 6pm-8pm
 IELTS 9.0 HANOI – MAY TO AUGUST 2018 IELTS REVIEW SCHEDULE
DATE
DAY
TIME
9am – 12nn
2pm – 4pm
6pm – 8pm
01-June
Friday
Exam Assessment
Easy Reading 1 Set B
02-June
Saturday
Grammar 3
Speaking Skills Enhancement
03-June
Sunday
MOCK EXAM 4
05-June
Tuesday
Writing Task 2 Outweigh
Writing Task 2 Discuss both views
06-June
Wednesday
Common Mistakes in IELTS
American Accent (Listening Test) Set B
07-June
Thursday
Writing Task 1 Table
Pronunciation 1
08-June
Friday
Vocab 3
Writing Task 2 Line graph
09-June
Saturday
Grammar 4
Grammar 5
10-June
Sunday
MOCK EXAM 5
12-June
Tuesday
Average Listening 1 Set A
Average Listening 2 Set A
13-June
Wednesday
Average Reading 1 Set A
Average Reading 2 Set A
14-June
Thursday
Average Listening 1 Set B
Average Listening 2 Set B
15-June
Friday
Average Reading 1 Set B
Average Reading 2 Set B
16-June
Saturday
American Accent (Listening Test) Set A
Vocabulary 4
17-June
Sunday
MOCK EXAM 6
19-June
Tuesday
Writing Task 2 Discuss both views
Writing Task 2 Outweigh
20-June
Wednesday
Pronunciation 1
Common Mistakes in IELTS
21-June
Thursday
Writing Task 2 Line graph
Writing Task 1 Table
22-June
Friday
American Accent (Listening Test) Set B
Vocab 3
23-June
Saturday
Grammar 5
Grammar 4
24-June
Sunday
MOCK EXAM
26-June
Tuesday
Average Listening 2 Set A
Average Listening 1 Set A
27-June
Wednesday
Average Reading 2 Set A
Average Reading 1 Set A
28-June
Thursday
Average Listening 2 Set B
Average Listening 1 Set B
29-June
Friday
Average Reading 2 Set B
Average Reading 1 Set B
30-June
Saturday
Vocabulary 4
American Accent (Listening Test) Set A
*Regular ONE-ON-ONE COACHING schedule is Tuesday – Sunday 9am-11am; 2pm-4pm; 6pm-8pm
*Regular TUTORIAL LESSON with the assistant teacher is the same as with lecture schedule Tuesday- Sunday 9am-11am; 2pm-4pm; 6pm-8p
IELTS 9.0 HANOI – MAY TO AUGUST 2018 IELTS REVIEW SCHEDULE
DATE
DAY
TIME
9am – 12pm
2pm – 4pm
6pm – 8pm
01-July
Sunday
MOCK EXAM
03-July
Tuesday
Writing Task 1 Process A
Writing Task 1 Process B
04-July
Wednesday
Australian Accent (Listening Test) Set A
Australian Accent (Listening Test) Set B
05-July
Thursday
Writing Task 2 Open-ended
Writing Task 1 GT Letter
06-July
Friday
Content Speaking
Vocabulary 3
07-July
Saturday
Grammar 6
Grammar 7
08-July
Sunday
MOCK EXAM 8
10-July
Tuesday
Difficult Listening 1 Set A
Difficult Listening 2 Set A
11-July
Wednesday
Difficult Reading 1 Set A
 Difficult Reading 2 Set A
12-July
Thursday
Difficult Listening 1 Set B
Difficult Listening 2 Set B
13-July
Friday
Difficult Reading 1 Set B
 Difficult Reading 2 Set B
14-July
Saturday
Pronunciation 2
Grammar 8
15-July
Sunday
MOCK EXAM 9
17-July
Tuesday
Writing Task 1 Process B
Writing Task 1 Process A
18-July
Wednesday
Australian Accent (Listening Test) Set B
Australian Accent (Listening Test) Set A
19-July
Thursday
Writing Task 1 GT Letter
Writing Task 2 Open-ended
20-July
Friday
Vocabulary 3
Content Speaking
21-July
Saturday
Grammar 7
Grammar 6
22-July
Sunday
MOCK EXAM 10
24-July
Tuesday
Difficult Listening 2 Set A
Difficult Listening 1 Set A
25-July
Wednesday
Difficult Reading 2 Set A
Difficult Reading 1 Set A
26-July
Thursday
Difficult Listening 2 Set B
Difficult Listening 1 Set B
27-July
Friday
Difficult Reading 2 Set B
Difficult Reading 1 Set B
28-July
Saturday
Grammar 8
Pronunciation 2
29-July
Sunday
MOCK EXAM 11
31-July
Tuesday
Exam Assessment
Listening Skills Enhancement 1
*Regular ONE-ON-ONE COACHING schedule is Tuesday – Saturday 9am-11am; 2pm-4pm; 6pm-8pm and Sunday 9am-11am
*Regular TUTORIAL LESSON with the assistant teacher is Tuesday- Saturday 9am-11am; 2pm-4pm; 6pm-8pm and Sunday 9am-11am
IELTS 9.0 HANOI – MAY TO AUGUST 2018 IELTS REVIEW SCHEDULE
DATE
DAY
TIME
9am – 12nn
2pm – 4pm
6pm – 8pm
01-August
Wednesday
Reading Skills Enhancement 2
Listening Skills Enhancement 2
02-August
Thursday
Listening Skills Enhancement 2
Reading Skills Enhancement 2
03-Augsust
Friday
Reading Skills Enhancement 1
Writing Task 2 Skills Enhancement
04-August
Saturday
Listening Skills Enhancement 1
Writing Task 1 Skills Enhancement
05-August
Sunday
MOCK EXAM 12
07-August
Tuesday
Writing Task 1 Skills Enhancement
Reading Skills Enhancement 1
08-August
Wednesday
Writing Task 2 Skills Enhancement
Exam Assessment
*Regular ONE-ON-ONE COACHING schedule is Tuesday – Saturday 9am-11am; 2pm-4pm; 6pm-8pm and Sunday 9am-11am
*Regular TUTORIAL LESSON with the assistant teacher is Tuesday- Saturday 9am-11am; 2pm-4pm; 6pm-8pm and Sunday 9am-11am
IELTS 9.0 COURSES
Courses
IELTS  Score
9
6.5 – 7.0+
More than 200 hours

program is designed to fully equip the students with necessary skills in order to ace the IELTS test by the end of the course.

Unlimited lectures

-Unlimited one one one coaching

-Unlimited excersise

-Unlimited Listening dictation

-Unlimited voc lists

-Unlimited mocktests

— Unlimited time: 3 months. 6 months, 1 years

8
6.0 – 6.5+
7
5.5 – 6.0+
6
5.0 – 5.5+
5
4.5 – 5.0+
4
3.5 – 4.5+
3
3.0 – 3.5+
Intermidiate
Basic and shortest forms
2
2.0 – 3.0+
Pre-Intermidiate
Basic
1
0 – 2.0+
Elementary
Beginer
Students guarantee to attend 100% srequired lectures and practice
COURSE
Tuition
Scholarship (40%)
General
8.720.000
5.668.000
Unlimited

Save fee, shorttime learining, the course is for students who have good ability to practice themself

Guarantee IELTS
14.850.000
8.910.000
Unlimited

The courses are guaranteed  score by valuable paper. Students can learn unlimited  until  they meet the requirement score

Intermediate
9,170,000
5.500.000
To improve basic English ability and familiar with short form test paper.
Pre – Intermediate
7,670,000
4.600.000
Basic English
Elementary
6,500,000
3.900.000
Beginer